Store Details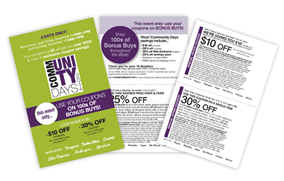 BERGNER'S COMMUNITY DAYS

Is your non-for-profit looking for a fun and easy fund-raising event?  At Bergner's we have a terrific fundraising event called Community Days.
Bergner's will provide your organization with easy-to-sell, easy-to-redeem coupon booklets at no charge for a storewide shopping event taking place Friday, February 27 and Saturday, February 28.  There is even one coupon valid for $10 off a $10 purchase.
Your organization sells the coupon booklets in the community, online, and at our store for $5 each and you keep the entire $5 for your group.  It's that easy!
During our Fall 2014 event organizations raised an average of $900!  It is worthwhile to get involved in the event!
For more information, go to www.communitydayevent.com or call 309-692-4024 ext. 3801 and speak with Anita.
Valid through February 28, 2015